Hello Everyone,
I wanted to let you guys know what I have been doing lately. I went to LA at the end of August and shot three videos with Naughty America. You can check me out on Diary of a MILF. This good looking stud couldn't wait for me to whip out his bulge and head on his hard penis! I loved it when he fucked me doggy style. He fucked me so good and hard that I had to lay down on my tits! The other two have not been put up yet. They will be on My Friend's Beautiful Mom. In the first one, I talk my "son's" best friend into going with us to a Summer Perv Camp. I show him what he'll see and remind him that my husband and I are Swingers, too! I give him a taste at what fun he can have at Camp with me!! The other camwhore involves my "son's" best friend and his current girlfriend! We all have a deep conversation about sex and swinging and we all have a great time together!!!
HELLO ALL FROM SUNNY TAMPA FLORIDA..THIS SERIES WAS SHOOT A THE MEMBERS GANG BANG PARTY IN SARASOTA. MIA AND HER HUSBAND WHERE MEMBERS OF OUR SITE AND CAME DOWN TO MEET US…TRACY HAS NEWVER BEEN WITH A LATINO WOMEN AND LET ME TELL YOU ALL…..SHE LOVED IT!!! MIA ND HER HUSBAND HAD SO MUCH FUN THAT THEY WANTED TO JOIN THE HOTTIEWIVES.AND HAVE THERE OWN PAGE…THEY TOLD US THAT THEY HAVE ALL KINDS OF PERSONAL VIDEOS AND PHOTOS FROM THERE SWINGING ADVENTURES…….SO LOOK FORWARD TO MIA IN THE HOTTIEWIVES CLUB AS A REGULAR AT OUR PARTIES AND BAR MEETS……PART TWO OF THIS SERIES WILL BE POSTED ON WEDNESDAY WHEN MIA'S HUSBAND JUMPS IN . I ALSO HAVE OVER 1 HOUR OF MASTURBATION OF THIS SERIES 2 WILL BE POSTED ON WEDNESDAY AND 4 MORE ON FRIDAY……..SO STICK AROUND AND HAVE A GREAT WEEK…….SEE YA WEDNESDAY………WITH VIDEOS AND PART II
We have a members bar meet every month in the Tampa area. We have found a great location at a local off premise swing club, NIGHTMOVES II,. The owners open the club at 9:00 PM for our members. We have had many parties at NIGHT MOVES and we always have a super turn out, sometimes well over 100 people join us. Florida Double D from the hottiewives club is always there as well as Used Blonde, Victoria. and Hottie Wife Tracy. The Club is open to both singles as well as couples. We have lots of couples show up that are really into the single guys, so this is a great way for you single guys not only to meet us, but to get involved in the swinging lifestyle with the couples that are members of this site that want to meet you. We hope to see you all there. We have a link below where you will have to print a pass out and put your members ID no. on to be admitted at the door. The club is a BYOB so bring your own liquid refreshment, they provide the set ups and a small buffet. The club charges a $10.00 door charge to our members that is $40.00 less than the people off the street. Women of course are always free and we have had quite a few single women join us in the past. If you plan on attending our bar meet you must e-mail us with your name and members ID no. After you e-mail that to us please print out your pass for the door. These are always great nights and we look forward to meeting you all there.
Sorry I'm posting my February bar meet now. Ug! My cam chat is still fairly new and I wanted to share this with you as well. Our first Tampa " Bar Meet" was so much fun. The bar wasn't expecting our "hottie" ways! When you look at the photos you are going to think "HOW THE HELL DID THEY KEEP FROM GETTING KICKED OUT?' We were a wild bunch and the Bar loved it. We gathered a crowd of drink buying, dancing "Hottie Wives" fans. We do know how to get a party started! Check rectum next week to see what happened after we left the Bar Meet. I'll have photos of the "HOTTIE WIVES" getting off before they fine down. Hope you are with me next time we BAR MEET! Sexy Sucks and Kisses
After a phone call from the neighbors they decide to take the orgy inside. Chilie and Becky has a little fun on the outside deck before taking it to the bedroom! The webcam is from two different cameras so you do not miss any of the nasty action
See my latina girlfriend pictures. Watch her big natural boobs! Not only does she have a cute and lush latin body, she was also gifted with a beauty set of great big natural tits.  An excellent combination as far as I'm concerned. We don't get a lot of big boobed latina girls over here and I'm guessing that is a cultural thing. I don't know.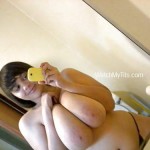 Back in college I used to mess around with this latina girl with big breast and she came from a very conservative family and circle of friends. Little did they know that she really liked to party and have promiscuous sex with some guys. It's a really nice big titted latina slut! We love to see all these free amateur gf pictures!
This girl is some guy's ex girlfriend posing nude here and showing off her great huge natural boobs. He says that they were immensely attracted to one another and expressed that quite often; they just couldn't keep their hands off each other. Her exbf submitted these pictures with WatchMyTits.com and there is also a great very amateur sex video showing her tits being fucked by a guy from mexico I think. Signup Watch My Tits to download and enjoy tons of real life big titted girls being fucked and more.
Signup WatchMyTits.com Today & Download 300,000 Real Amateur Big Tits Sex Pics and Videos
#boobs #tits #racks #topless #nipples #breast #bigTits #BigBoobs #GFtits #NaturalTits #myTits #AmateurTits #flashTits #publicTits #exgf #exgfPics
Chilie has been wanting it and fantasizing about it, you have been asking for it and wanting to see it and now it is finally here. I asked one of our members to show up a little early for our Xmas party last week and surprise Chilie. Well he did just that and when her saw her in her buff little Santa outfit he could not resist getting her under the Christmas tree and giving her an early Christmas present. Chilie wasted no time, in her normal slut wife fashion, in getting his pants down and her deepthroat around that big black johnson. She gets him to the floor and plants her wet snatch in face as she continues to stroke and blowjob that black balls. With Chilie, that lesbian can never wait to long and this time was no exception as she rams that big penis into her wuss from all positions. She ends up on her knees getting fucked hard from booty and takes a full wad pie load on the cool booty and snatch. Chilie really has the time of her life living out her fantasy for big black boner. She takes the guy all the way and really enjoys putting her bj and then that tight wet muff all over his blowjob. From the time she had with this one, I have a feeling we will be seeing a lot more of Chilie with black dick in her suck and poontang and hopefully soon the Ass too!!!
Meet Lola, Lola is another nudist resort Hottie Wife. Lola and her husband are swingers and partiers and are very good friends of Wild Bill and myself. They go the the bar meets and swing parties. They love meeting members of this website and are also members of Adult Friend Finder. They meet sigles and couples all the time
Vic sure knows how to gain Dee's attention! He sent her a email with a few photos of his 9 inch hard schlong and gave her details on how he is going to use that big dong on her. Vic and his wife are also swingers, web site owners except he is the star and his wife takes the photos and videos of him fucking other ladies. It was to bad his wife could not be there for this shoot because she missed a sexy one as you will see! Enjoy and don't worry Dee did not get any in her eye, lol
Mr. DD
I was a little shy at "My First Tampa Cumshot Party" but I wanted to fuck them all and be a Star for "the Crew". I eventually fucked everybody accept the black men because I had never done a black man before and the ones at this party had mouth huge cocks I was afraid I would not be big enough to allow them to really nail me and have a really good time buried in my Love pussy. All the anxiety is over now I fuck those huge cocks all the time now and my cunt is bigger than I thought possible. Please come to a party and bury your dick in My big Pussy, Cheers Victoria!
Chilie was surprised when we stopped by a friends house for a drink by 3 big and hard black cocks who are friend had waiting for her. They quickly got introduced, in Chilie's fashion, in the living room and the clothes came off very fast. Chilie worked all three of them into submission as she was quite cum thirst hat afternoon…..
American Steel on the road and Hard American Meat between my legs off the road at this years big bike event dominated by men and women that ride Harleys. I flashed my way into several men's pants and eventually fucked 27 men during the three days I was at the event. I just love men that are exuberant about pushing their meat into me, their excitement and just a few thrusts will get me off. I was up late, ridden hard and left wet and sticky for my husband to clean up every morning. I will be there for five days this year and hope to have you in me, Cheers Victoria!